January 1, 2023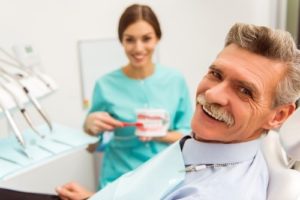 Teeth are meant to last for a lifetime, but 40 million Americans have experienced complete tooth loss. Dentures have been used for generations to restore functional, beautiful smiles, but they aren't the only method of replacing missing teeth. 500,000 people per year are investing in dental implants. Although dentures are a tried and proven solution, dental implants have many advantages, like the ability to stop bone loss. If you're ready to replace your lost teeth, here's what you need to know to choose the best method to rebuild your smile.
Implants VS Dentures
Traditional dentures feature a gum-colored base that's made from an impression of your mouth, which holds prosthetic teeth. They rest on top of your gum tissue to replace the portions of your teeth above the gum line.
Dental implants differ because they also replace tooth roots. Titanium posts are surgically placed into the jawbone to mimic roots. They anchor your denture to your bone instead of relying on suction to hold your new teeth in place.
While both methods can complete your smile, there are a few things to consider when choosing the best option for you, like:
Bone Preservation
You can lose 25% of your jaw's density within the first year of a missing tooth because it's not being stimulated by the root. You'll continue to lose bone density as more time passes.
An implant denture is the only method to stop bone loss caused by missing teeth. The implant posts stimulate your jaw to encourage new bone growth.
Function
Traditional dentures rely on suction or an adhesive to stay in place. Well-maintained dentures will provide a comfortable fit, but they'll always have their limitations.
Implant dentures closely feel natural because they have the support of your jawbone. You can regain 70% of your biting force, and you'll never have to worry about slipping or irritation.
Lifespan
A regular full denture lasts for about 5 to 7 years before needing to be replaced. Dental implants are proven to last for 30 years or more with the right aftercare, like brushing and flossing.
Cost
Traditional dentures are more affordable upfront than dental implants, but they are the most cost-effective long-term. You'll never have to budget for replacements, so you'll save money down the road. Often, dental insurance will pay a portion of the cost to keep your new smile within your budget.
Don't settle for anything less than the best. Your confidence, quality of life, and general health rely on the perfect tooth replacement method for your needs and preferences. You can't put a price on the benefits you'll gain from treating your tooth loss.
About Dr. Dominic G. Carlson
Dr. Carlson earned his dental degree at Creighton University and regularly continued his education in advanced services, like oral sedation and dental implants. He has the qualifications and experience to treat the most complex cases of tooth loss. If you're ready to rebuild your smile, request an appointment through our website or call (661) 449-9109.
Comments Off

on Dentures VS Implants: Which Stops Bone Loss?