Dental Crowns – Bakersfield, CA
The Best Way To Restore & Protect Damaged Teeth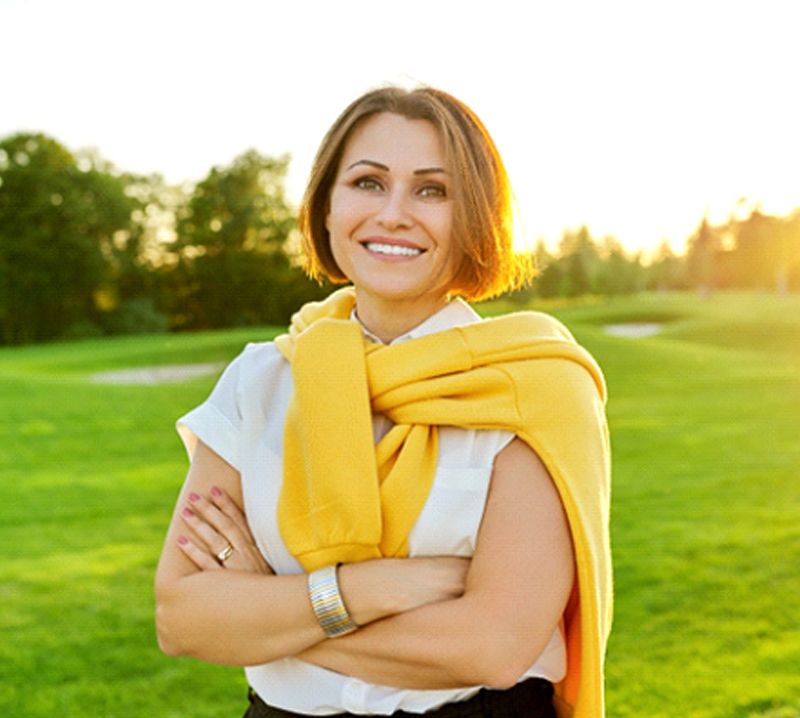 Do you have decaying or severely damaged teeth? This can be due to multiple reasons—including poor oral hygiene, playing sports, or accidentally tripping on the sidewalk. Even if the situation doesn't seem urgent, leaving your injured teeth untreated can put them at risk of other dental issues, such as infections. If this occurs, it can result in needing teeth extractions later on. To provide the necessary strength and protection for your smile, Dr. Dominic Carlson can offer top-quality and customized dental crowns in Bakersfield. Call our office or read on to learn more!
Why Choose Dominic Carlson, DDS For Dental Crowns?
Caring & Professional Dental Team
Advanced Restoration Technology
Long-Lasting & Natural-Looking Results
What Is a Dental Crown?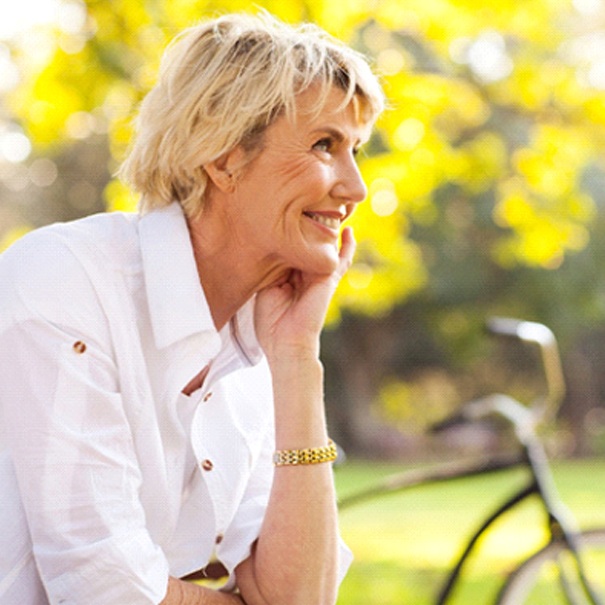 A dental crown is a custom-crafted cap that's meant to cover the top of a damaged tooth. They're typically made of porcelain, providing a durable and natural-looking replacement. These are most often offered to patients who received root canals or have severely decayed, damaged, misshapen, loosened, or missing teeth. If you're experiencing any of the above conditions, be sure to visit our office so we can discuss your treatment options!
The Dental Crown Process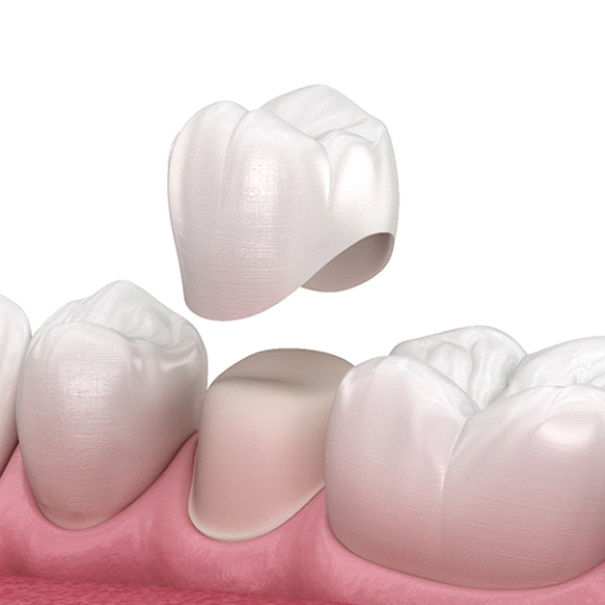 You can expect the dental crown process to go in the following ways over the course of several appointments:
You'll receive an oral evaluation to determine if a dental crown will fix your specific issue, and we'll make sure you understand the procedure before beginning.
We'll remove a thin layer of enamel to prepare your tooth for a crown.
Impressions of your teeth and gums will be sent to a lab for construction. Meanwhile, we'll provide you with a temporary crown to keep your tooth safe.
Once we get your permanent crown, we'll call you in to replace your temporary cap.
We'll advise you on the best practices to preserve your new tooth.
The Benefits of Getting a Dental Crown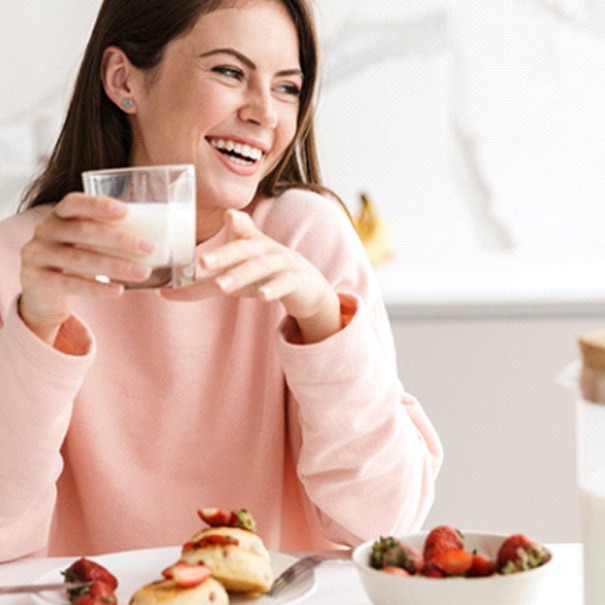 Most patients experience the following benefits with dental crowns:
Restores and protects your pearly whites.
Reduced risk of developing dental problems.
Improved comfort and chewing ability.
Long-lasting results; lifespan of 15 years or more with proper care.
If you're ready to receive your dental crowns in Bakersfield, reach out to our team for an initial consultation. With our help, you can be one step closer to enjoying your full smile again!
Dental Crown FAQs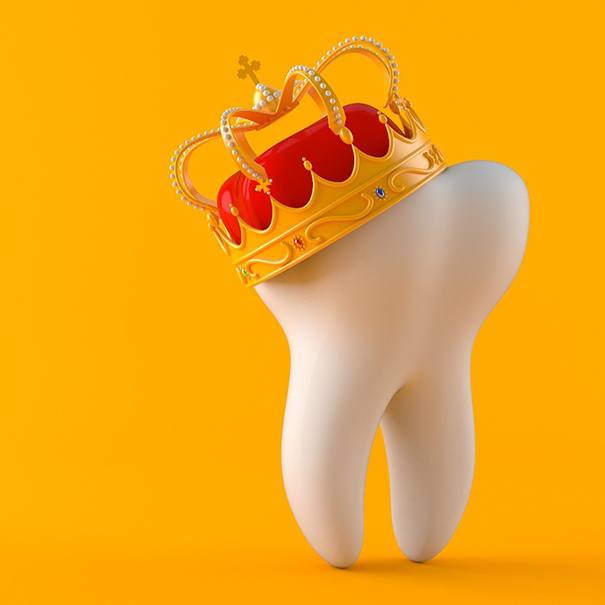 Have you been told that you need a dental crown? You may still have some unanswered questions about the treatment, so we're here to help! Here are the answers to some of the most common questions we receive about dental crowns in Bakersfield. If you don't see the information that you're looking for below, give us a call! We'd be happy to walk you through the process so you know what you can expect.
Are Dental Crowns Permanent?
Dental crowns aren't technically permanent, but they are a long-term solution. Ultimately, they can protect your smile for anywhere between 5 and 15 years. When your dentist reshapes your tooth for a crown, that procedure is irreversible. Tooth enamel cannot grow back after it has been lost, so that tooth will always need a crown for protection going forward. That being said crowns are able to protect the underlying tooth from additional damage, helping it to survive for much longer than it likely would have otherwise.
Do Dental Crowns Get Cavities?
It is impossible for a dental crown itself to develop cavities, but the tooth underneath it still can. A crown tooth has about the same risk of decay as an uncrowned tooth. Poor oral hygiene makes it possible for bacteria and plaque to form around the gumline where the tooth meets the crown. They can then travel underneath the crown and wreak havoc on the underlying tooth. You can prevent cavities in crowned teeth the same way you can in any other tooth – brush, floss, and see your dentist for regular checkups.
Does It Hurt to Get a Dental Crown?
Just like when you get a filling, your dentist will numb the tooth they'll be working on when you get a crown. While you shouldn't feel any discomfort during the procedure, you may feel some sensitivity for a few days afterward, especially if you also had a root canal. This can be managed with over-the-counter pain relievers. If discomfort persists, give us a call.
Do Dental Crowns Feel Natural?
Within a few days of receiving your permanent crown, it should start to feel increasingly natural. Crowns are made from durable materials that can stand up to everyday chewing forces just as easily as tooth enamel, so eating with a crown shouldn't feel strange. The reason your dentist reshaped your tooth and took impressions was to ensure that it would fit comfortably in the mouth.
How long do dental crowns last?
Dental crowns in Bakersfield are designed to provide a long-term solution, but they don't last forever. Various factors affect their lifespans, like the materials used and the location of the restoration. Back teeth undergo more pressure from chewing, so they may have a slightly shorter life expectancy. On average, a crown will need to be replaced about every 10 years, but it isn't uncommon for them to last for much longer with the right aftercare. You can get the most from your investment by committing to your oral hygiene. Besides brushing and flossing, visit your dentist every 6 months for a cleaning and checkup. It is best to break any bad habits that can damage the restoration, like using your teeth in place of scissors or chewing on pens and pencils. Your dentist will recommend limiting hard or sticky foods to preserve your crown.
Can dental crowns be whitened?
Modern dental crowns are made from all-ceramic materials, which are resistant to stains. You shouldn't need to worry about your crown changing colors, but if your bright smile begins to fade, a whitening treatment may not be the best option. Although a professional whitening system can get your teeth up to 8 shades whiter, they don't have any effect on restorations because they aren't porous, like your enamel. Not to mention, whitening agents can weaken the bonding material holding your crown to your tooth. Instead, your dentist may recommend reshading or replacing your restoration.
Are dental crowns covered by insurance?
Every insurance policy differs, but many cover dental crowns when needed for restorative reasons, like fixing a broken tooth or after root canal therapy. While every situation is unique, most plans cover crowns 50% to 80% of the cost after meeting your annual deductible. We know dental insurance can be confusing, but you don't have to navigate your policy alone. A member of our team will help you maximize your benefits to lower the amount you will pay out-of-pocket and explain your payment options for any remaining balance.
Is it a dental emergency if a crown falls off?
Although a crown is meant to last for years, it isn't unusual for one to fall off over time. If your crown comes loose, you're going to need to see an emergency dentist in Bakersfield. Don't try to glue or cement the restoration onto your tooth because bacteria can be trapped under the crown, which can lead to decay or infections. You can apply a small dab of toothpaste to hold it in place temporarily. You can take an over-the-counter pain reliever to manage any discomfort and avoid chewing with your tooth until after it has been repaired. Don't wait too long to see your dentist or a minor issue can turn into a big problem because your tooth will be vulnerable without the protection of the restoration. Depending on the situation, your dentist may be able to bond the original crown back in place; however, some patients may require a new restoration.