Dentures – Bakersfield, CA
The Trusted & Proven Way to Replace Missing Teeth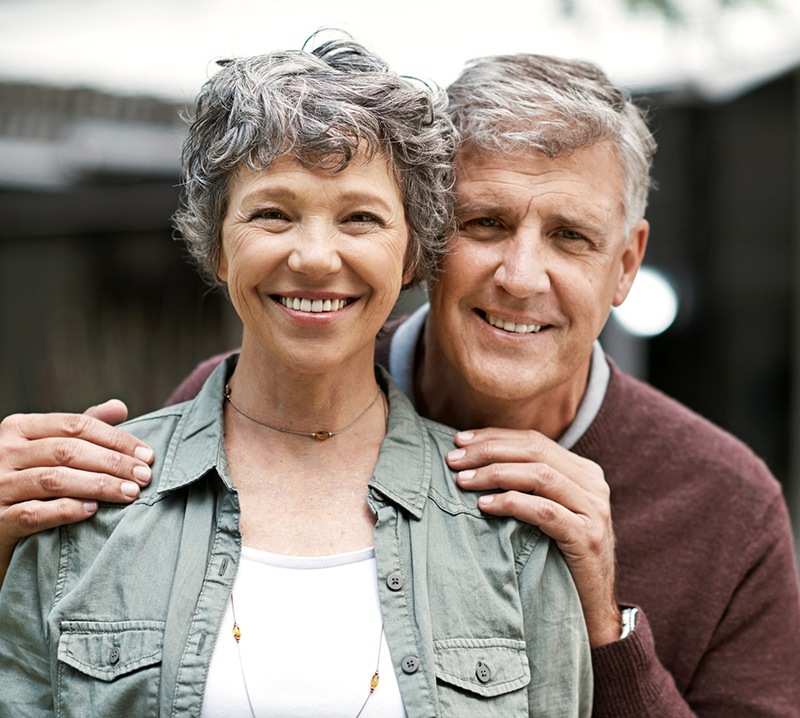 Nobody wants to be stuck with a toothless smile. Picking a prosthetic that is just right for your needs is an emotionally trying time, and the thoughtful staff at Dominic Carlson, DDS understands that. Dr. Carlson is practiced with helping patients to select a reliable dental prosthetic. We can tend to your needs by fitting you for full or partial dentures. Please contact us today to schedule your consultation or if you have any questions regarding dentures in Bakersfield, CA.
Why Choose Dominic Carlson, DDS for Dentures?
We Accept Dental Insurance
Warm, Welcoming & Friendly Dental Office & Staff
Dentist is Born & Raised in Bakersfield
High-Quality Dentures That Look Great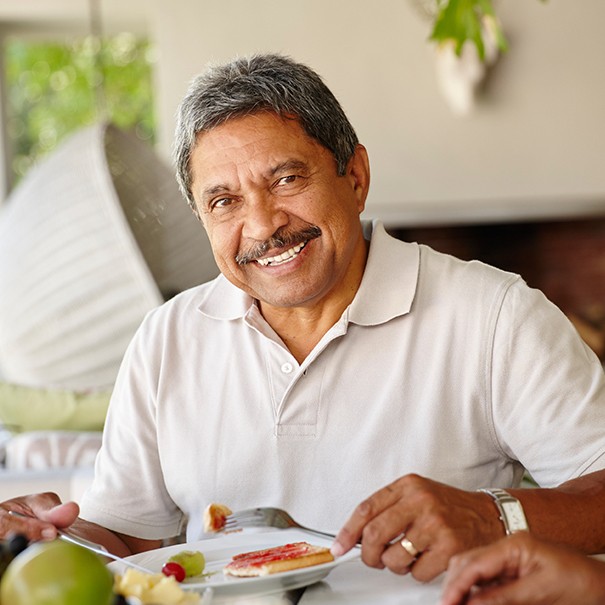 In past years, dentures weren't comfortable for those who needed to replace their teeth. Because they were mass produced, the appliances were supposedly "one size fits all," but they frequently slipped or slid around in patients' mouths! Fortunately, with the use of updated technology, current dentures and partials can be individualized for each patient. Coming to Dominic Carlson, DDS for your tooth replacement needs can benefit you too! Our Bakersfield staff will work hard to measure and evaluate your gums so your denture or partial can be created just for you.
What Can Partial Dentures Do for You?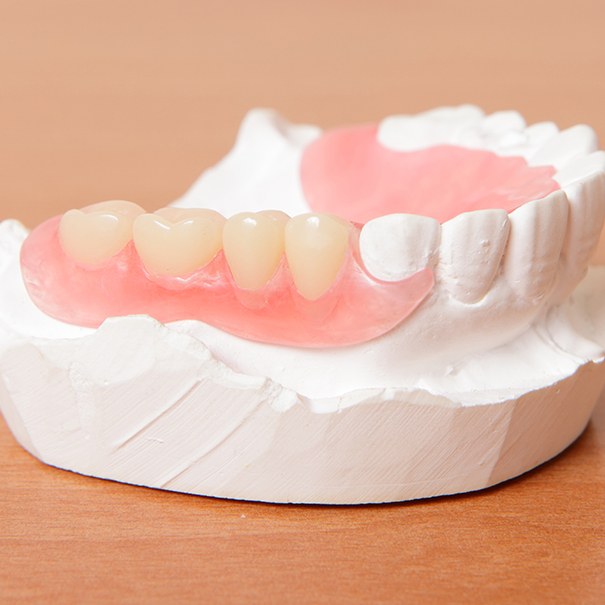 Many patients with dentures and partials from Dominic Carlson, DDS feel confident with their treatment. The security of your bite can be replenished with a proper fit from these prosthetics. Your diet may not even need drastic alterations to accompany this change. You shouldn't have to worry about forgoing your favorite meals or snacks! Dentures and partials from Dr. Carlson can help you regain your smile and your lifestyle.
How Can Full Dentures Benefit You?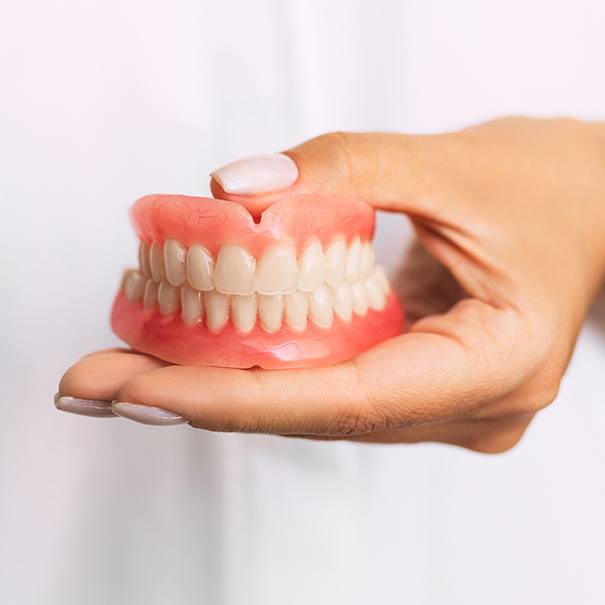 A full denture can replace the teeth along the upper, the lower, or both gums. It maintains its spot in your mouth with natural suction and sometimes dental adhesive. If you're missing only a few teeth in a row, a partial could be the option for you. A partial denture replaces up to three missing teeth in a row, and it's attached to strong, healthy teeth that reside on either side of the gap. Both dentures and partials are removable, which allows for easier cleaning. You'll simply take out your partial or denture at night, brush it with a toothbrush, and then soak it overnight in a glass of water. Our Bakersfield staff can also recommend a reliable denture cleaning tablet if you'd like an extra cleansing measure.
Understanding the Cost of Dentures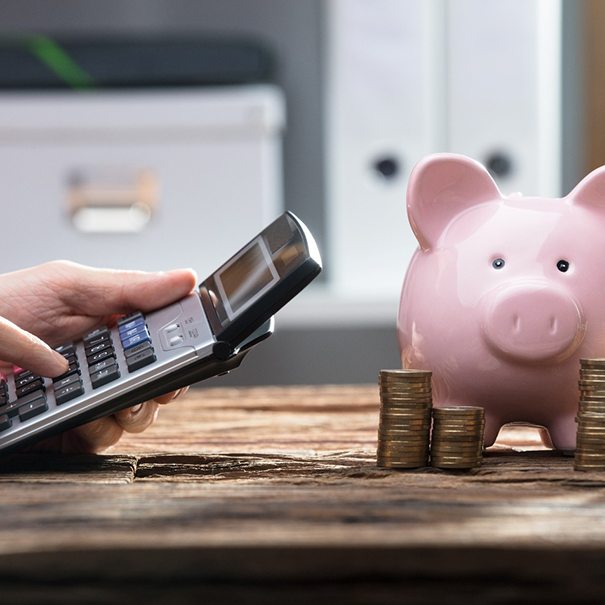 After reading the information above, you're probably interested in knowing how much it'll cost to get dentures in Bakersfield before making a decision. Well, it's hard to say with certainty what your final price will be as it can vary greatly from patient to patient. At your consultation, Dr. Carlson will explain which factors affect the cost and conduct an oral examination to give you an accurate estimate. Based on the findings, we'll help you understand not only what you can expect to pay for your new smile, but what it will look and feel like.
Factors that Affect the Cost of Dentures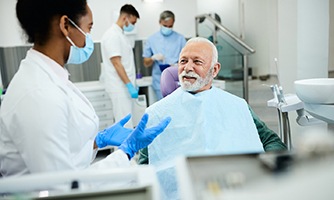 Several factors influence the final cost of getting dentures in Bakersfield, including:
Any preparatory dental work needed before dentures can be worn (i.e., tooth extractions, gum disease therapy, etc.)
Number of teeth you're missing
Type of acrylic used for the base (the part that's dyed to match the color of your gum tissue)
Materials your replacement teeth will be made of (usually acrylic or porcelain)
Some patients may decide to opt for cheaper dentures to save money. However, that's not the best idea. Since the more affordable oral appliances are often made of subpar acrylic or "teeth", they tend to break easily and will require replacement much sooner than you'd expect. That's why when it comes to dental work, quality should always be of utmost importance regardless of cost!
Are Implant Dentures More Expensive?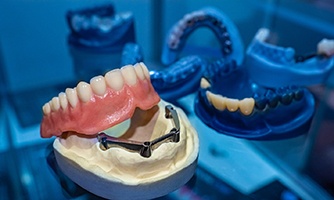 Yes, but there's a good reason why implant dentures are generally more expensive than traditional ones. They require oral surgery and the placement of multiple dental implants, making them one of the most durable solutions for missing teeth. Since implant dentures do not shift out of place while in use, you can smile, chew, eat, and speak with full confidence once again. Additionally, they're designed to last several decades, which is why many patients find them to be a worthwhile investment that pays off in the long run.
Does Dental Insurance Cover Dentures?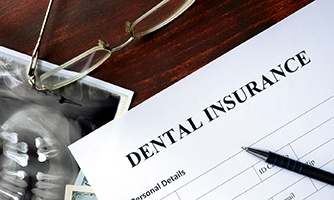 Dentures are considered a major procedure, which is why most dental insurance plans offer some level of coverage for it. In most cases, you can expect around 50% of their cost to be covered by insurance. Of course, every policy is unique, meaning the exact amount of coverage will vary from person to person. If you have any questions about your benefits, our dental team can review the details of your plan and explain how it works. We'll do everything possible to maximize your coverage and significantly reduce your out-of-pocket expenses.
Other Options for Making Dentures Affordable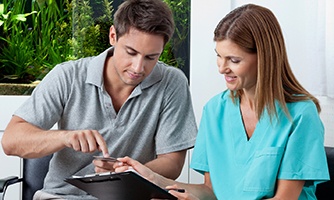 Don't have dental insurance? No problem! We offer a special membership plan to help make your dental bills much easier to manage. Each one is tailored to fit your exact budget and includes preventive dental care at no additional cost. Additionally, you can enjoy the benefit of saving 15% on procedures completed at our practice, like dentures.
If you want to learn more about your financing options, don't hesitate to contact our team and schedule a consultation. We're happy to answer any questions you have to help you feel confident on your journey towards a beautifully restored smile!
Denture FAQs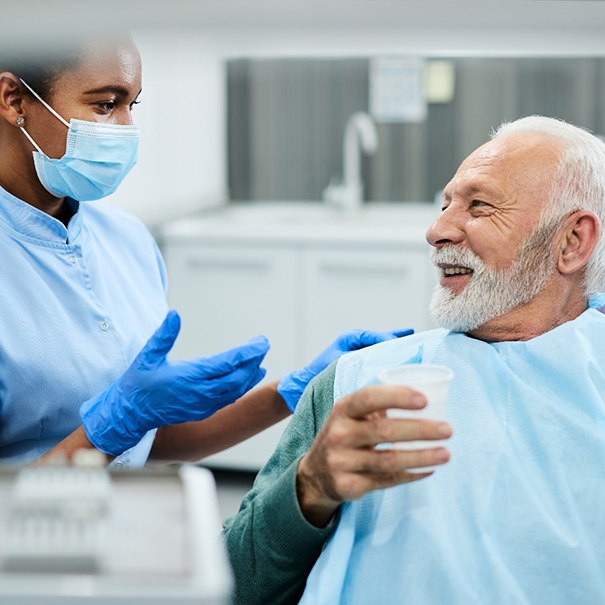 If you have missing teeth, you know from experience how much it can affect your quality of life. Fortunately, you don't have to live that way forever! You can restore your smile and confidence by getting dentures in Bakersfield. Before committing to the process, you probably want to know more about this method of tooth replacement. To help you out, we've decided to answer a few common questions we get from patients. If you don't see your specific question below, feel free to contact us for an answer!
Should I Have All My Teeth Pulled to Get Dentures?
Not if you can avoid it! Repairing damaged teeth is always preferable to replacing them. Dr. Carlson will only recommend having all your teeth extracted if it's deemed necessary, like when they've been damaged beyond repair thanks to extensive decay, severe infection, or trauma. If an entire arch is decayed or infected with gum disease, it might be more cost-effective to replace it with dentures than other solutions. Rest assured – Dr. Carlson will explain all your viable options before recommending extractions.
Can I Sleep with My Dentures?
When you first get your new dentures in Bakersfield, you must keep them in your mouth for 24 hours, including sleep. But after that first day, you should start taking out your oral appliances every night before bed. Since wearing dentures restricts the circulation in your gums, taking them out gives your oral tissues a chance to recover and get the nutrients they need during the night. Otherwise, leaving them in can lead to soft tissue irritation and potentially speed up ridge resorption. The dark, moist space underneath dentures is also the perfect breeding ground for bacteria, which is why sleeping with them is associated with an increased risk of pneumonia.
Will It Hurt to Get Dentures?
It's hard to say with certainty whether getting dentures will hurt because everyone's pain tolerance and experiences are different. If you need to have teeth extracted before getting them, you'll likely have some discomfort after the procedure. The good news is it should resolve on its own within three to five days. After receiving your new dentures, you might experience mild irritation while your mouth adjusts to the new appliance. If your pain persists or worsens after a few days, you should contact Dr. Carlson right away for treatment. The dentures may not have been fitted properly or there could be an underlying oral health issue that needs to be addressed.
Can I Use Regular Toothpaste to Clean My Dentures?
To keep your dentures in optimal condition, you must be diligent about brushing and rinsing them every day. However, do not use toothpaste to do it. The abrasive material can leave small scratches on the surface, resulting in serious damage to your false teeth over time. For that reason, you should also avoid using a hard-bristled toothbrush. Some dentist-approved items you can use to clean your dentures are a soft-bristled toothbrush, hand soap, mild dishwashing liquid, and specialized denture cleaners. Don't forget to clean them after every meal or snack!