December 29, 2022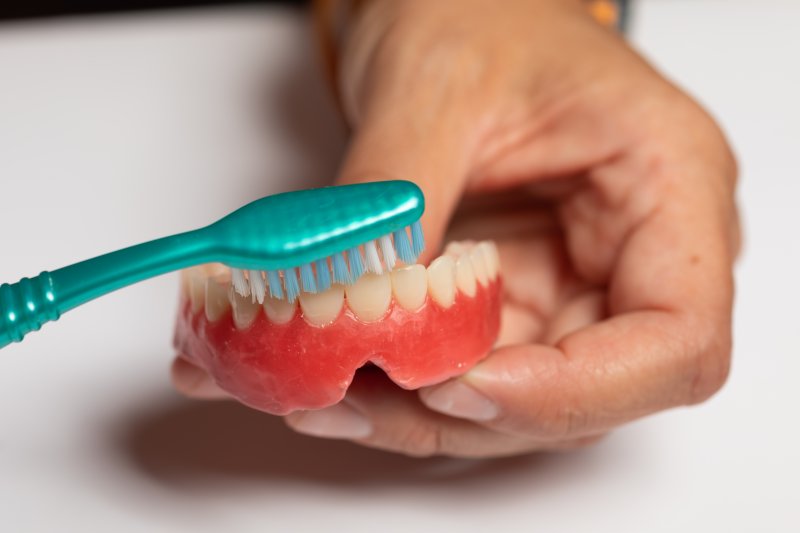 Dentures are one of the most popular ways to replace missing teeth. Whether you need to fill in a few gaps or an entire mouth of pearly whites, this replacement option is chosen by many for its long history and easy use. Even so, there are quite a few things about dentures that vary from one's natural smile. For example, the way that you clean dentures are different from your teeth. New denture wearers often wonder if they can brush their restorations while wearing them. Continue reading to learn if cleaning dentures wow they're in your mouth is a good idea or if there's a better way to do it.
Is Cleaning Dentures While Wearing Them Okay?
As previously mentioned, cleaning dentures isn't quite the same as with your natural smile. Though it's possible to clean your restorations while wearing them, it's recommended to take them out first. This is because not all parts of the dentures can be cleaned thoroughly enough without removing them.
Though removing your dentures to clean them takes more time than leaving them in, this will allow you to remove plaque, bacteria, and food particles from under the gum-colored base. Doing so will lower your risk of developing tooth decay, gum disease, and other oral health issues.
How to Properly Care for Your Dentures
So, how can you properly clean your dentures? There are a few things that you should keep in mind when cleaning dentures, such as:
Take precautions – When cleaning your dentures, make sure to do so over a soft, folded towel or a sink full of clean water. This will prevent your restorations from being damaged if you drop them by accident.
Remove your restorations – As previously mentioned, it's best to remove your dentures before you clean them. This will allow you to thoroughly remove all plaque and debris.
Brush your dentures – After you Remove your dentures, brush them with a soft-bristled toothbrush to avoid scratching them. Additionally, use either denture cleaner or non-abrasive toothpaste. If you use denture adhesive to keep your restorations in place, be sure to thoroughly remove it.
Soak overnight – Soaking your operations overnight will remove bacteria that you missed when brushing. It will also give your mouth a break since your gums might be a bit sore after wearing your restorations all day.
Rinse them off – Rinse your dentures off with water before you put them back in your mouth in the morning. This will prevent you from accidentally introducing potentially harmful chemicals into your mouth.
Cleaning dentures may take a little time to adjust to. But, with the above information, you will be able to keep your restorations in excellent condition so you can enjoy a fool, beautiful smile!
About the Practice
Carlson Dentistry of Bakersfield is here to give you the effective, efficient oral health care that you deserve. They administer a variety of preventive, cosmetic, and restorative procedures. For people missing many or all of their teeth, their reliable dentures can fill in the gaps. They can also give you tips on cleaning dentures so you can keep your new smile looking its best. If you want to make an appointment with Carlson Dentistry of Bakersfield or to learn more about their services, call their office at (661) 327-7301 or visit their website.
Comments Off

on Cleaning Dentures: Can You Do It While Wearing Them