November 8, 2022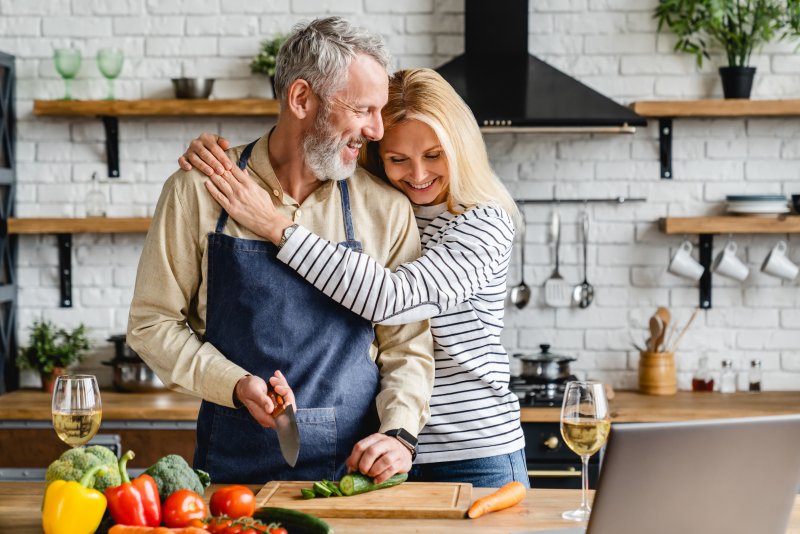 If you're struggling with moderate to severe tooth loss, then you know how difficult it can make simple tasks, such as munching your food comfortably. Fortunately, you can effectively restore your smile with dentures. Thanks to advancements in modern dentistry, your restorations will be more durable and natural-looking than ever before. That said, it may take some time for you to get used to chewing with your new teeth. Read on to learn several tips on eating with dentures to improve your dining experience!
Tip #1: Take It Slow & Steady
As mentioned above, you'll have to undergo a gradual adjustment period when you first wear your brand-new restorations. Be easy on yourself and take as much time as you need to get accustomed to how your dentures feel when chewing your food. The more you practice, the better you'll get and the more natural your restorations will seem when it's time to enjoy a meal.
Tip #2: Start with Softer Foods
While your dentures will help you regain some of your biting power, you won't want to indulge in all kinds of treats right off the bat. Initially, you should start with soft foods like yogurt, applesauce, soup, and oatmeal to get used to your teeth. These meals won't require much chewing, which will allow you more time to master how your dentures work when wearing them.
Tip #3: Double-Check the Temperature
Since your restorations won't have nerves like your natural smile, they won't be able to signal to you how hot or cold an item is. If you aren't careful, you could end up accidentally burning your mouth as well as warping your dentures. For this reason, you should always verify the temperature of your food and drinks before enjoying them right away.
Tip #4: Avoid Spicy Ingredients
Your dentures will mostly rest on your gum line, which can result in sensitivity or soreness in your soft tissue, especially at the beginning. While your gums will grow accustomed over time, be sure to avoid spicy treats or meals. Foods containing hot sauce or red pepper flakes can end up irritating your gums and cause discomfort.
Tip #5: Chew Evenly On Both Sides of Your Mouth
Did you know most people typically favor chewing on one side of their mouth? With dentures, you'll have to practice using both sides so that you can distribute pressure evenly across your smile. If not, you can potentially shift or knock your restorations out of place. Practice chewing on both sides during mealtime, and it should get easier over time.
By keeping these few tips in mind, you should be able to enjoy your meals much better in the long run. Speak with your dentist if you have any concerns along the way, and they'll be happy to help with your adjustment process.
About the Author
Dr. Dominic G. Carlson earned his dental degree from Creighton University. He's also completed countless hours of continuing education to advance his expertise and skills. He provides a wide range of high-quality services, including dentures. If you'd like to schedule an appointment, visit his website or call 661-327-7301.
Comments Off

on 5 Essential Tips for Enjoying Your Meals with Dentures