August 24, 2022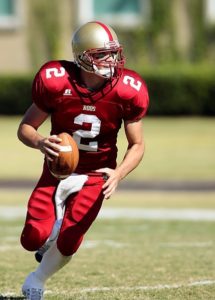 No one ever expects a dental emergency to happen to them, but 1 in 6 Americans has one annually. Although anyone can require urgent dental care, athletes are most at risk. According to the Journal of the American Dental Association, up to 39% of dental emergencies are sports-related. While it's not unusual for athletes to suffer oral health injuries, many could be prevented with a sportsguard. Here are 3 of the most common athletic dental emergencies a mouthguard can prevent. 
1. Fractured Teeth
Your teeth are composed of the hardest substance in your body, your enamel. Although it's strong, it isn't indestructible. A blow to the mouth can fracture a tooth. "Craze lines" are superficial cracks; however, a tooth can also completely crack or split. 
No matter how insignificant the damage appears, you'll need to see an emergency dentist. Even if you aren't having any pain, your fractured tooth is at risk of decay, infection, and additional breaks without any treatment.
2. Fractured Roots
An elbow to the mouth or a tackle in a football game can fracture the root of a tooth. If the blow occurs at a certain angle, the crack can begin at the root and extend to the crown. However, it's not uncommon for the damage to be hidden below the gum tissue until an infection occurs.
Even if you can't see the damage, it's important to see an emergency dentist after trauma to your mouth. If they find a fracture, they can save your tooth with root canal therapy. 
3. Tooth Intrusion
You might believe knocked-out teeth are among the most common athletic oral injuries, but tooth intrusions are just as prevalent. This occurs when a tooth is driven into the jawbone, which is often seen in children who have baby teeth, but athletes of all ages are at risk
Safeguard Your Smile from Injuries
You wouldn't play football without wearing a helmet because it's essential for your protection. An athletic mouthguard is just as important for your smile. It provides a protective barrier for your teeth, gums, and oral structures to absorb the impact of trauma to the mouth. In some situations, a mouthguard can also lessen your risk of concussion.
Research has found athletes are 60 times more likely to suffer a dental emergency without a mouthguard. You can lessen your risk of an oral health injury with the right protection. Although they are available OTC, it's best to invest in a custom-made mouthguard from your dentist. It will fit your mouth like a glove for added comfort and peace of mind.
About Dr. Dominic G. Carlson
Dr. Carlson earned his dental degree at Creighton University and has completed hundreds of hours of continuing education in oral sedation and dental implants. He remains up-to-date with the latest technologies and techniques to provide superior care. If you're ready to protect your smile, contact our office today to request an appointment for an athletic mouthguard.
Comments Off

on 3 Common Sports-Related Dental Injuries & How to Prevent Them