August 4, 2022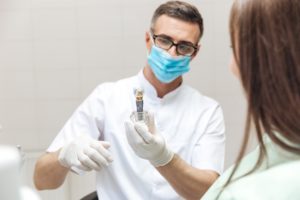 Bridges and dentures have been used for generations because they are tried and proven methods of replacing lost teeth. However, more than 500,000 people every year are choosing a dental implant to replace both the root and crown. It has over a 95% success rate thanks to advancements in dental implant technology. Here are 3 innovations behind the most successful option to complete your smile.
Replace Lost Teeth Permanently
Traditional tooth replacement methods only recreate the portions of lost teeth above the gum line. A dental implant differs because it replaces the entire tooth. A titanium post is placed into the jawbone to act as a root. Your bone will fuse to it through a process called osseointegration. Your implant can stay in place forever while providing unmatched support for your restoration, which is attached using an abutment.
Although dental implants can thrive for a lifetime, they weren't always as successful as they are today. Several innovations over the years have paved the way for their current success rate. The most influential advancements include:
1. Digital Planning
Digital imaging technology is used throughout the entire process. A CT scan is taken of your mouth during your consultation to ensure you are a candidate for dental implants. Your dentist uses the images to plan the placement of your posts. It creates a 3D model, allowing them to see every detail of your oral structures to decrease any room for error. After your placement surgery, your dentist will use a digital impression of your mouth to create a high-quality restoration.
2. Computer-Guided Placement
State-of-the-art software works with digital technology to create a template for implant placement. A quick, painless scan creates crystal clear images of your hard and soft tissues. As a result, your dentist can insert your posts with pinpoint accuracy to ensure the overall success of your new smile. This provides predictable results during the planning and placement process to minimize any surprises.
3. Antibacterial Coating
High acid contact from the foods you eat can erode your dental implants. An antibacterial coating gives you the freedom to enjoy your favorite foods and drinks without worrying about them damaging your smile. When combined with a great oral hygiene routine, your dental implants have the potential to last for 30 years or longer.
Invest in the Best
If you've lost a tooth or two over the years, don't settle for anything less than the best. Your dentist will use the art and science of dentistry to restore a beautiful, confident smile with dental implants. You'll benefit from the most advanced method to treat tooth loss.
About Dr. Dominic G. Carlson
Dr. Carlson earned his dental degree from Creighton University and regularly continues his education in advanced treatments, like dental implants and oral sedation. He combines his training and experience with the latest technologies to deliver high-quality dentistry. If you are interested in dental implants, contact our office today to request your consultation for a complete smile.
Comments Off

on 3 Innovations Behind Dental Implant Success