July 28, 2022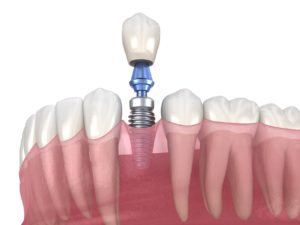 Despite continual innovations in dentistry, 120 million Americans have lost at least one tooth. Traditional bridges and dentures have been used for generations to rebuild complete smiles; however, 500,000 people annually are choosing a permanent solution to replace their missing teeth. A dental implant has over a 95% success rate and is proven to last for decades with the right maintenance. As the only method of recreating both the root and crown, here are 5 factors behind the high dental implant success rate.
1. Advanced Technology
Advanced technology is used from start to finish during the entire dental implant process. A CT scan is used to examine your oral structures to ensure you're a candidate for the procedure by determining the density of your jawbone. Your implant dentist will use the scans to pinpoint the precise location for the posts. Computer-guided implant placement takes the guesswork out of the process to promote the utmost precision.
2. Replicates the Entire Tooth
A dental implant is the only treatment to rebuild the entire tooth structure. An implant post is surgically placed into the jawbone to mimic a root. An abutment is placed on the post to connect a custom-made restoration. As a result, you will enjoy a nearly perfect replica of your natural tooth while also keeping your jawbone strong and healthy for long-term success.
3. Biocompatible Materials
Titanium creates the foundation for the overall success of the procedure because it is lightweight and durable. However, it is also biocompatible, so there's minimal risk of rejection or allergic reactions.
4. Osseointegration
Recreating the root encourages new bone growth to allow your jaw to fuse to the post through a process called osseointegration. Your bone integrates with the post, allowing it to stay in place for a lifetime with the correct care. Not to mention, the post will stimulate your jaw to stop bone deterioration associated with tooth loss. You'll preserve any remaining natural teeth to reduce your long-term oral health expenses.
5. Easy Maintenance and Care
The risk of dental implant failure is less than 5%, which is most often caused by a preventable infection called peri-implantitis. It is easy to avoid with a solid oral hygiene routine at home and routine care from a dentist. You will never have to worry about your new smile failing by brushing, flossing, and scheduling a cleaning and checkup every 6 months.
Invest in the Best Today
Dental implants are an investment in your oral health, quality of life, and confidence. You won't have to budget for replacements every few years. After just a few months, you will enjoy a complete, beautiful, and healthy smile that will surpass the test of time.
About Dr. Dominic G. Carlson
Dr. Carlson earned his dental degree from Creighton University and has completed advanced training in oral sedation and dental implants. He strives to help each patient achieve their best smile using state-of-the-art solutions. If you are ready to have a complete smile, contact our office today to request your consultation for dental implants.
Comments Off

on What Makes Dental Implants Successful?