April 29, 2022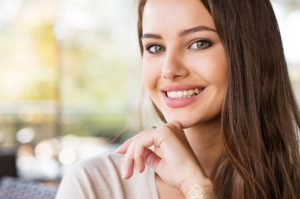 What's the first thing you notice about someone when meeting them? If you are like 37% of Americans, it's likely their smile. Unfortunately, cosmetic imperfections can give the wrong first impression. 84% of adults say an attractive smile is important, but how do you know if yours is considered appealing? Here are 4 traits of a beautiful smile and how cosmetic dentistry can help you achieve them.
1. Tooth Color
Most people attribute white teeth to youth, intelligence, and success. However, teeth naturally come in a variety of colors, shades, and hues. Not to mention, they change color over the years as your enamel gets thinner, which exposes more of your yellowish dentin. The foods and drinks you consume, your oral hygiene, and poor lifestyle habits can lead to premature discoloration. Your cosmetic dentist can turn back the clock using a personalized treatment plan, like teeth whitening or veneers.
2. Gum Display
Your teeth aren't the only component of a beautiful smile. Your gum line is equally influential. If you have too much gum tissue, your teeth can look short or stubby. However, too little tissue can expose the roots of your teeth. Your cosmetic dentist can create an attractive gum line and proportionate-looking teeth using specific solutions, such as gum recontouring, dental bonding, or periodontal therapy.
3. Alignment
Few people are born with perfectly straight teeth. Your teeth also shift as you age. Gapped or overcrowded teeth can be embarrassing, but that's not all. Alignment issues can negatively affect your oral health, increasing your risk of tooth decay, gum disease, and dental emergencies. Poorly aligned teeth can also affect your bite, making it difficult to chew or speak clearly. A bad bite can even lead to TMJ dysfunction, bruxism, or speech complications.
Correcting bite and alignment problems can give you a beautiful, healthy smile. You won't have to worry about brackets or wires drawing added attention to your mouth because you may be a candidate for clear aligners. In some situations, porcelain veneers can fix minor alignment concerns, like gaps between teeth.
4. Cant
Cant refers to the tilt of your teeth. Generally, a perfect smile has teeth that are straight up and down, but it's not unusual for them to tilt slightly backward or forward. Many people also view them as unattractive. Often, orthodontics is the best solution to resolve cant concerns, whether clear aligners or metal braces.
You can have the confident, attractive smile you deserve with the help of your cosmetic dentist. You'll invest in your self-esteem and ensure your smile is giving the best impression.
About Dr. Dominic G. Carlson
Dr. Carlson earned his dental degree at Creighton University and has completed advanced training in sedation dentistry and dental implants. Dr. Carlson combines his qualifications and experience with the latest developments in dentistry to deliver state-of-the-art services. If you are ready to revamp your smile, contact our office today to request your consultation for cosmetic dentistry.
Comments Off

on 4 Traits of a Beautiful Smile