December 23, 2021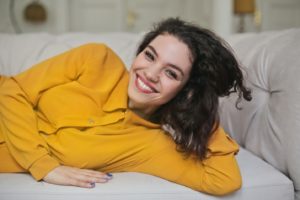 Your teeth are important for more than just biting and chewing. They are invaluable to your self-esteem. A beautiful smile radiates happiness and confidence from the inside out. However, if you've lost a tooth or two, you likely lost some of your shine, too. You don't have to live with the weight of missing teeth. Dental implants are a nearly perfect replica of your real teeth, but that's not their only benefit. Here are 5 ways dental implants will instantly reignite your confidence.
1. Smile without Any Worry
A dental implant is unlike any other treatment because it recreates both the root and crown to mimic the entire tooth. The post is hidden in the jawbone while a ceramic restoration recreates the surface of your lost tooth. It's custom-made to match the color, size, and shape of your natural teeth to blend in seamlessly. No one will know it isn't a real tooth, so you can smile freely in any situation.
2. Eat Anything You Want
You don't have to worry about leaving certain foods off your plate during family dinners or when getting a bite to eat with friends. You'll never experience any dietary restrictions because you'll regain 70% of your natural biting force. However, you'll want to limit foods that are chewy, sticky, or hard.
3. Turn Back the Clock
Tooth loss can make you look years older than your real age. Replacing your missing teeth with dental implants keeps your jawbone strong and healthy to support your facial tissues. You'll avoid premature wrinkling and sagging skin to maintain a youthful, vibrant appearance.
4. Improved Oral Health
A dental implant is the only solution to replace the root, which is necessary to prevent your jawbone from deteriorating. As a result, you'll avoid many common problems associated with missing teeth, like cavities, gum disease, and additional tooth loss.
5. Lower Oral Health Expenses
You won't have to worry about a large dental bill down the road. A dental implant will stop dental drift to prevent needing a costly treatment later by preserving your natural smile. Not to mention, dental implants have over a 95% success rate. They are proven to thrive for 30 years or longer with the proper maintenance, so you won't need to budget for replacements. You can ensure your new smile lasts for a lifetime by brushing, flossing, and using a daily mouthrinse. You'll also need to visit your dentist at least twice a year for a cleaning and checkup.
You can't put a price tag on the benefits you'll gain from completing your smile with dental implants. You'll have the peace of mind and confidence you need to always feel your best.
About Dr. Dominic G. Carlson
Dr. Carlson earned his dental degree at Creighton University before continuing advanced training in many specialties, including oral sedation and dental implants. If you're ready to fill the gaps in your smile, contact our office today to schedule your consultation for dental implants.
Comments Off

on 5 Ways Dental Implants Boost Your Self-Esteem