October 3, 2021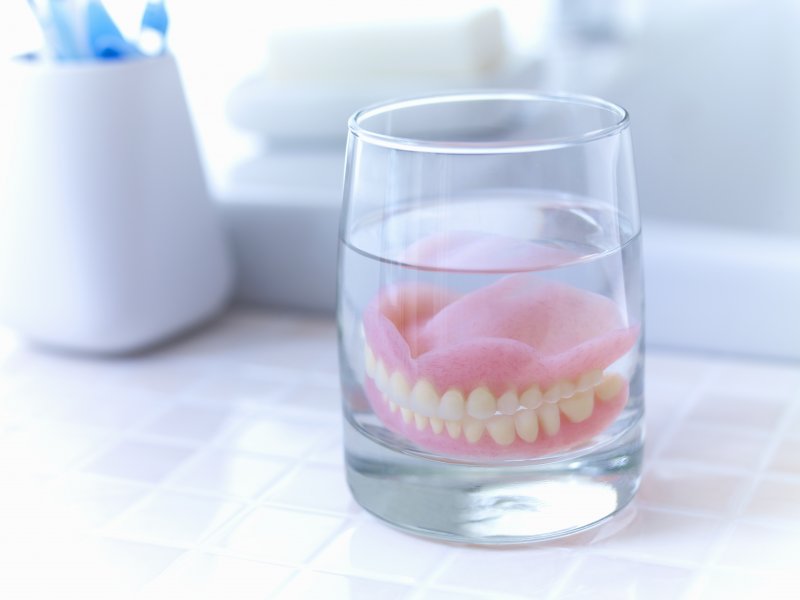 Caring for dentures requires knowing which products to use and how to properly clean and maintain your prosthetics to avoid potential damage. When meeting with your dentist to receive your new teeth, they'll go over what you should and shouldn't do to keep your smile lasting as long as possible. Here are three valuable tips that are designed to extend the lifespan of your teeth and keep your prosthetics looking and feeling new.
Know How to Properly Handle Them
It is necessary that you clean your dentures after every meal as well as when you wake in the morning and before you go to bed at night. Because you will spend much of your time over a sink, rinsing and brushing your teeth, you should place a towel in the basin of your sink. This will protect your dentures should you accidentally drop them. You don't want your prosthetic to crack or become chipped, as this can cost additional time and money, so make sure you're taking the right precautions.
Use the Right Products to Clean Them
You might assume that regular toothpaste is fine to use to clean your dentures; however, this is not true at all. Traditional toothpaste is abrasive and can scratch the acrylic and porcelain. This is why your dentist will recommend non-abrasive products and gels. Also, you'll always want to use a soft-bristled toothbrush to gently remove dried saliva and bacteria from your dentures. And when soaking them at night, make sure you're using a mild denture cleaner or regular water to keep them moist. You should never use bleaching products, whitening toothpaste, or hot water on your dentures, as this can cause significant damage.
Know When to See Your Dentist
Over time, your dentures may no longer fit as well as they did in the beginning. This can happen as a result of changes occurring throughout your face. When the shape even slightly moves, it can make your denture fit incorrectly, irritating your soft tissues. Fortunately, your dentist can reline your prosthetic to ensure a better fit. If the problem is too severe, however, you will likely need to have a new denture created. Regular dental checkups and cleanings can allow your dentist to closely monitor any changes and make timely recommendations to help you avoid going long lengths of time without your teeth.
While these are only three ways you can take better care of your dentures, your dentist can readily provide additional tips to ensure the health and lifespan of your new smile.
About the Author
Dr. Dominic Carlson is a dentist in Bakersfield who wants his patients to feel good about their smiles. Whether they're living with real or artificial teeth, taking care of their oral hygiene is essential. When equipped with traditional dentures, he and his team will provide valuable tips and tricks to help keep these prosthetics in optimal shape and lasting for years to come. If you are just starting with dentures and need help identifying how best to maintain your new smile, contact us at (661) 327-7301.
Comments Off

on 3 Ways to Care for Your Dentures and Extend Their Lifespan