July 16, 2021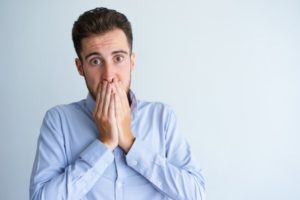 Did you know that your tooth enamel is even stronger than your bones? Unfortunately, it's still all too easy to chip or break your teeth. What's worse is that unlike your bones, teeth don't repair themselves! If you find yourself with a chipped tooth, it's important that you know what to do so you can act quickly and correctly. Read on as we go over step-by-step what to do if you chip a tooth.
Step 1: Call Your Dentist
Whether your tooth is chipped, broken, or knocked out completely, your first step should be to call your emergency dentist right away. Describe your situation as best you can over the phone. They'll determine how urgently you need to be seen, ranging from that same day to a few days out, and schedule you an appointment accordingly. They'll also give you personalized tips for how to handle your unique situation until you reach their office.
Step 2: Rinse Your Mouth Out & Collect the Pieces
If you can, collect any large pieces of your tooth and store them in a clean container. Bring this with you when it's time for your appointment, your dentist may be able to simply cement your tooth back together. In the meantime, you should rinse your mouth out gently. Not only will this wash out any tiny pieces of your chipped tooth that you may otherwise accidentally swallow or breathe in, but it will clean away bacteria and other particles.
Step 3: If Necessary, Stop the Bleeding
If the trauma that caused your tooth to chip has also caused bleeding in your mouth, your next step is to address that. Once you've determined where the bleeding is coming from, apply constant pressure to the area. You can use a clean piece of gauze, some paper towels, or a wet washcloth. Bleeding should subside quickly. If you're still bleeding after 10-15 minutes, you should go directly to your local emergency room.
Step 4: Manage Pain & Reduce Swelling
Most chipped teeth are minor injuries that have no extra symptoms. However, if your chipped tooth is causing pain and swelling, the next thing you should do is to get these under control. Once any bleeding has been stopped, apply a cold compress or ice pack to the outside of your mouth for 10 minutes on, 10 minutes off. This will reduce any swelling while simultaneously numbing the discomfort. Be careful not to place the cold object directly on your tooth, as it may be sensitive! You can also take over-the-counter pain relievers as directed on the label to manage discomfort.
Step 5: Protect Your Tooth
If you have a same-day emergency appointment with your dentist, don't eat or drink anything besides water until you are treated. If your appointment isn't for another few days, be sure to only chew on the uninjured side of your mouth. If your tooth feels sensitive, you could cover it with dental wax or sugarless gum.
Step 6: See Your Dentist ASAP
Even if the damage to your tooth is minimal and not causing you any pain, it's important that you see your dentist for treatment right away! A chipped tooth is vulnerable to decay, bacteria, and more extensive damage. Your dentist may be able to fill in a small chip in your tooth with dental bonding, or recement broken pieces of your tooth back into place. If you've chipped a front tooth, you may be interested in veneers to ensure you get the most aesthetically-pleasing results. However, if the damage is worse than expected, your dentist may recommend placing a crown to restore its strength and protect it.
While you will hopefully never experience a chipped tooth, accidents do happen! Make sure to keep these steps in mind if you find yourself in this scary situation.
About the Practice
Dr. Dominic Carlson was born and raised in Bakersfield and is proud to provide excellent oral healthcare to his friends, neighbors, and all the families in the surrounding communities. He's committed to offering high-quality and completely personalized dental care for each of his patients, which is why he uses all the latest dental technology and techniques. For his emergency patients, he goes above and beyond to provide same-day appointments and even has sedation options available to make these scary situations a bit more relaxing. To learn more, he can be contacted via his website or at (661) 327-7301.
Comments Off

on Chipped a Tooth? Here's What You Need to Do Next